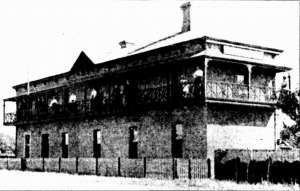 Built in 1876 locals have known it as Gertymore House, Strathmore, Old Smugglers' Restaurant, Southern Right Resort & the Smugglers Inn.
Gertymore House was the first large guesthouse to be established in Victor Harbor and was built by Christina and Oliver Baaner, who had previously let rooms in their small cottage in Stuart Street and saw a need for more accommodation for the increasing number of holiday visitors to Victor Harbor.
The guesthouse boasted its own vegetable garden and poultry farm and a 'septic tank'! Christina (nee Bruce) had come to South Australia with her parents in 1855 from the village of Gertymore in Scotland, hence the name chosen for the guesthouse, Gertymore's excellent reputation as a first class guesthouse continued for almost 40 years with additions and extensions being added in 1882 and 1897 with new owners taking over in 1915.
A succession of owners followed and further additions were made with the inclusion of cement columns and walls around the verandahs in the early 1920s.
The building continued as an accommodation property with the above name changes.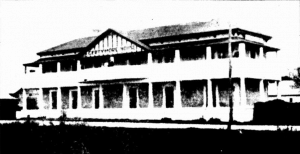 The Old Smuggler was purchased in late 1997 and major redevelopment commenced in March 1998. This redevelopment brought about the name change 'Southern Right Resort' and returned it to its original role as an accommodation property. Complete restoration and refurbishment of the original building was completed in April 1999. The developers being careful to maintain the original facade of the building with the return of the balustrade balcony and removal of the cement columns, which were a later addition. A new L-shaped wing has been cleverly added behind the original building and blends beautifully with the old and new linked by attractive and serviceable walk ways and courtyard to provide a total of 19 self-contained studio and two bedroom apartments.
The building as it is now more widely know, the Smugglers Inn is now a mixture of holiday apartments, holiday rental apartments and some permanently rented properties .